With the last five shots Beate Köstel won herself the title and the gold medal in the marathon, the 50m 3pos women event. Scoring 458,4 Beate Köstel ranked first just ahead of Lesya Leskiv from Ukraine with 454,5 points and the russian Polina Korosheva with a score of 444,2. Amelie Kleinmanns and Jolyn Beer ranked fourth and seventh. The best westphalian shooter has been Denise Palberg (Holzwickede) with 1160 points in the first stage ranking 18th.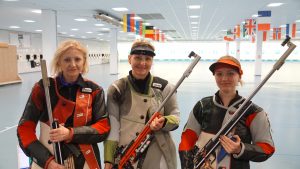 "Wow, I've waited so long for this, were the words by Svenja Berge before the vitory ceremony of women's 25m rapid fire pistol event. The young hessian was on top of he french dominated leaderboard most of the time, but in the last two series she dropped from gold- to bronze rank. "I only realised I was in the lead in the last two runs", said Svenja. Nonetheless she still takes a medal home and this is well earned. With 24 Hits she was just shy oft he 28, respectively 30 hits of the frenchwoman Karin Pardon and the ukrainian Kateryna Zelenska. Maria Hunz ranked 8th in her first final with 6 hits and the best westphalian shooter was Olga Kimla (Dortmund) ranking 12th with a score of 553 in the first stage.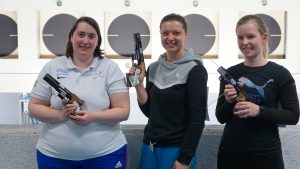 Two italian shooter made their to the podium of the 10m air pistol men event. But only in the tie breaker the italian Alessio Torracchi won the gold medal with a score of 242,4 points against the ukrainian Oleg Omelchuk also scoring 242,4. Rank three took Giuseppe Fiordano scoring 216 points. In the finale there were 3 indian shooter and all oft hem had the chance to change the matter of the competition. Unfortunately the all recieved a 2 point penalty for arriving late to the Reporting Time, so that two oft hem ranked 7th and 8th in the finale. Manjit Singh got the jump to rank 4 and fought for one oft he medals for a long time. One more you see, that in particular from India and generally from the asian region there are many top talent coming here. Best westphalian shooter was Ralf Risse(Westernkotten) ranking 13 with a score of 571 points.
The dealer fair is available from 19th to 22th of March 2018! A list of all Dealer you'll find here. All results and the starting lists you'll find here(LINK EINFÜGEN). The competitions take place in the LLZ Dortmund, Eberstraße 30, until the 25th of March. Free entry on all days.